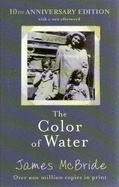 This book was sent to me by a friend after she had read it. I was interested because of the review she gave it.
I started it quite a while ago and then put it down reading a few other books. I picked it up again and re read from the beginning.
It's an interesting read.
James McBride
This book is a sort of biography/autobiography of
James McBride
and his mother Ruth who is a Polish Jew who immigrated with her family from Poland to America when she was two. She leaves her family when it all gets too much (Jewish upbringing) and ends up marrying a Negro and is widowed then marries another Negro. Between the two husbands there are 12 children (one, the writer of the book) and it reveals the lengths she went to give her children the best they could have, on the little they had.
Ruth McBride Jordan
An inspiring story of love and a faith in God.
When this edition was published Ruth was still alive but I have since read she died in January 2010
Ruth McBride Jordan, whose life story was celebrated by her son in a best-selling book, "The Color of Water," has died.
She was 88 and had been in failing health.
There is an interesting article in the
New York Times
that sums up her life and the books story.