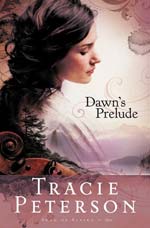 Dawn's Prelude
is the first book in a series of three , The Song of Alaska, written by Tracie Peterson.
Newly widowed Lydia Sellers discovers that through an unforeseen fluke, she is the sole recipient of her husband's fortune. But instead of granting her security, it only causes strife as her adult stepchildren battle to regain the inheritance for themselves. Lydia, longing to put the memories of a painful marriage behind her, determines to travel to Alaska to join her aunt.
Lydia's arrival in Sitka, however, brings two things she didn't expect. One is the acquaintance of Kjell Bjorklund, the handsome owner of the sawmill. Second is the discovery that she is pregnant with her dead husband's child. What will this mean for her budding relationship with Kjell? And to what lengths will her stepchildren go to reclaim their father's fortune? Lydia soon finds her life--and that of her child's--on the line.
Tracie Peterson
is a bestselling author who writes in both historical and contemporary genres. Her novels reveal her love for research as well as her strong desire to develop emotionally meaningful characters and stories for her readers. Tracie and her family live in Montana.
I enjoyed the easy reading of this book and it didn't take long. I did feel it lacked a lot of detail and would jump from a moment of suspense to after it, so you knew the result quickly but after reading that passage, I felt it could have been drawn out a bit to make it more 'gripping'.
I am keen to read the other three in the series, all of which my daughter has.